This digital project will take its users from the passing of the Volstead Act and the Minnesota museum named after its senator all the way to the repeal of the 18th amendment, and subsequent passing of the 21stamendment to the Constitution. Utilizing historypin, to create a map that can be accessed and moved by a community; I propose to create something that will take visitors through the varied opinions surrounding prohibition in Senator Volstead's home state.
The debates that flew around Minnesota before the passage of the Volstead Act bear re-visiting in the 100thanniversary of the year of its passing—similar to the many events celebrating the passage of the 19thamendment, the passage of the 18th amendment bears revisiting. Prohibition was a national experiment that had a lasting impact on the morality laws within the United States. It was the first state intervention into daily life of citizens on a national scale, and its lack of success speaks more to the attitude of the country rather than the lack of agents willing to support the amendment and its stipulations.
The journey of Prohibition within Minnesota is particularly interesting, as it represents a microcosm of events happening across the country. More interesting, is the reputation gained by St. Paul as a "crooks haven" for criminals avoiding the FBI, which increased the likelihood of speakeasies. The dichotomy present between those in the state who advocated strongly for Prohibition and the crooks who strode through the state capital creates a fascinating history to explore, and fits with the hundredth anniversary of Prohibition's enactment. This interactive map will seek to map out important events across the state, involving Senator Volstead and Prohibition busts, but will also seek to highlight events within the Twin Cities.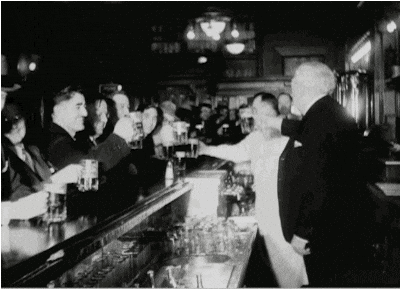 By creating a historypin, this project could seek to engage with Minnesotans who know more about their local history than the newspapers alone can tell. While newspapers will repot upon busts during Prohibition, they may not tell the whole story. Also, there are many robust county historical societies within Minnesota that could contribute to this map with linkable items from digitized collections. Prohibition is an event that has been studied by many, and there are a few organizations in the Twin Cities of Minnesota that already capitalize on their local history. This project seeks to make that history more accessible to those outside the state and maybe encourage visits to the many bars and restaurants that have speakeasy themes. Furthermore, this project seeks to establish just how much alcohol was illegally created in Minnesota during Prohibition despite the strong sentiment for Prohibition.