Hello all my lovely people, I hope you're having a fabulous quarantine. If you are in need of some entertainment during this weird and strange time in our lives, you've come to the right place! In this post I'll be showing you the wildly simple and strangely complex game called Mystery_House.dsk which is filled with murder, doors, and two-word commands. The game 100% reminded me of my cult classic favorite, Clue, which everyone should watch immediately.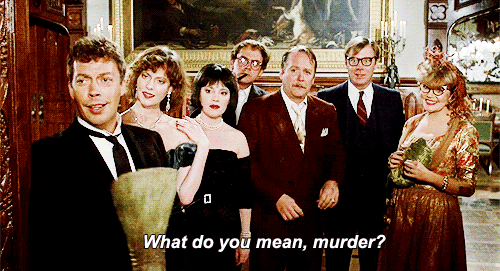 There are numerous versions of the game when you click the link Trevor provided in the syllabus, but I went ahead and played the original game. In order to play Mystery_House.dsk you have to download a Glulx interpreter which was something totally foreign to me. According to the website, it's not included in our major operating systems like Windows and OS X. This interpreter, from what I understand, is a program that reads a story file and allows you to play the interactive fiction game, which is what Mystery_House.dsk is. All I really understand is that I needed to download this software in order to download and play Mystery_House.dsk, so maybe Trevor could explain more in the comments!
If this game isn't the epitome of the 1980s computer abilities I don't know what is. That being said, it's actually a really cool game that has lots of hidden secrets. The game starts at this big mystery house and when you enter, you are met by seven people who soon disappear and as you move about the house, you find them dead throughout and your ultimate goal is to find out which of the seven people in the house killed everyone else. Does it sound like Clue yet?????
Instead of being able to move freely around the house like games nowadays, the only way you can move and look at things is by using two-word commands. Usually you start by choosing a verb, such as go, look, open, close, up, down, take, read, etc. and add a noun with it to perform the action on. So many of the commands I found myself using were "open door," "go door," "look body," "take [object]," "go stairs," etc. In order to move about the house you have to use cardinal directions by either typing "north" or "n."
As simple as the game seems, it's honestly kind of hard to maneuver since you can only give two-word commands. I tried to play a few times before I just couldn't figure out how to stop the game from going dark (you have to find a candle and matches to keep the game lit). I found some walkthroughs to be able to play and see the game with more ease because I couldn't even get up the stairs to the house the first few times I played oops.
Once I had the walkthrough the game went by quickly and it was fun to see how the game is supposed to be played. Almost every room there seems to be a dead body that gives more clues to who the killer is, along with four notes that are littered throughout the game. These notes can be picked up as clues to where the treasure is saying things like "7-6=1. Then I am done!" suggesting the murderer will kill everyone in the house until they are the only one left. The last note is picked up by the killer themselves, spoiler alert, it's Daisy, and it says "It's in the basement!" referring to the treasure. I did learn if you try to take the note from Daisy before you kill her, she'll kill you first.
Matthew Kirschenbaum in Mechanisms goes over the game in his third chapter and along with playing the game, he uses a hex editor to go through the actual coding and ins and outs of the disk that the game is on. After a quick google search, I found that a hex editor allows you to edit the raw data of a file instead of having the computer software attempt to interpret the file for you. With the hex editor, he is able to read between tracks where he can tell that Mystery_House.dsk is not the only game on the disk and that other games previously existed on the same disk. He explains that even though Mystery_House.dsk is the primary game on the disk, by using the hex editor you can find bits and pieces of other games that once existed on the disk and had been overwritten. He specifically found a game called Dung Beetles and a Pac-Man like game in between two tracks on the disk. I am still a little confused as to how the hex editor works so maybe Trevor could elaborate on that too!
In conclusion, go play the game or watch Clue during your quarantine!!!