Hey! For this week, I will be guiding the class through the publishing platform Omeka. In a nutshell, Omeka is an online platform that allows users to share digital collections and create object-based online exhibits. This is a great resource for students, teachers, archivists, and librarians. As seen in our weekly reading of "Omeka and Its Peers" by Tom Scheinfeldt, there isn't anything on the market that can compare to Omeka's usability or accessibility. As an example, the William J. Clinton Presidential Library and Museum uses Omeka to share their digitized collections with the public. I have been using Omeka since the spring of 2019 and it is a great way to learn website design, collection management, and curatorial practice.
Website design is very complex so I am going to do my best to briefly walk you through the different elements of Omeka. I will be using images from Miriam Posner's "Up and Running with Omeka.net" blog post alongside some images of the Clinton Digital Library as examples.
Once you have created a site, there are two important elements you must understand. The first being the public view of the website and the second is the backend of the website.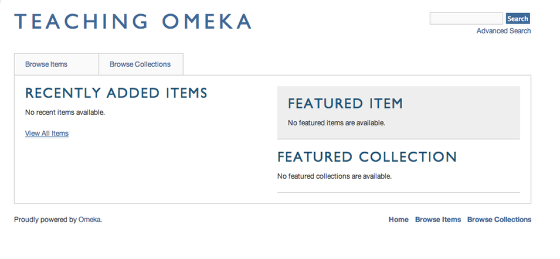 The public view is what visitors will see when visiting your site. You have the ability to customize this view as you see fit. This includes the homepage and the different exhibits you may add over time.
The backend of the site is where the magic happens. This is where the owner of the site can edit and change how the site looks. The public does not have access to this portion. The owner of the site can add in items (videos, images, recordings) create collections of items, and install plugins (creative add-ons like an exhibit builder).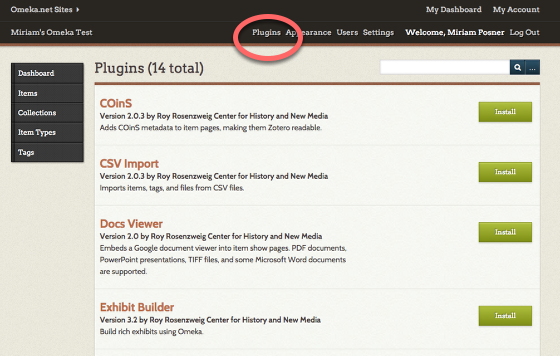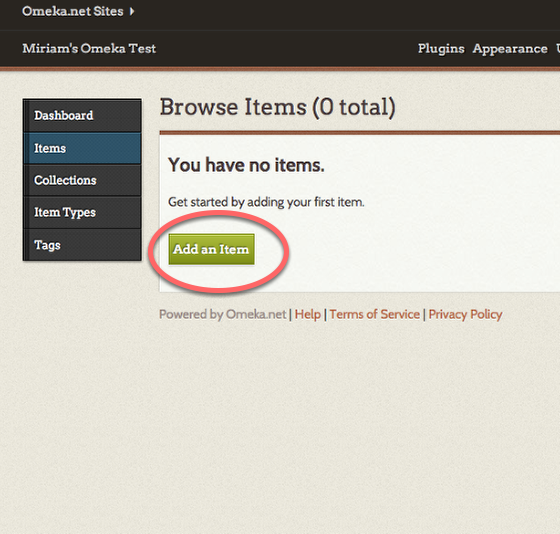 When you add in items and collections, you will be greeted with a screen that allows you to describe your item or collection. This is one of the biggest reasons why it is so popularly used by professionals. For each item and collection, you can extensively provide the metadata that is appropriate.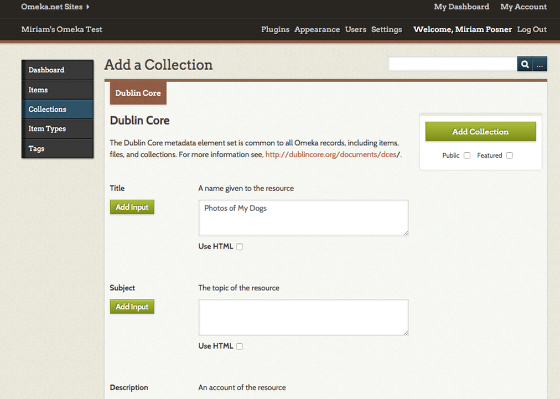 These are the key aspects of Omeka. Like any digital tool, it takes some trial and error to understand the limits and possibilities of the site. At its core, Omeka is designed to showcase digital collections and build exhibits around those collections. The possibilities are truly limitless. The Clinton Presidential Library and Museum uses Omeka to make its digitized collections accessible. If they wanted, a family could use Omeka as a digital photo album to share family photos. I have used Omeka to curate an online exhibition on the video game Assassins Creed Odyssey and included video recordings from my Xbox. Hopefully, this has been a useful introduction to Omeka and I would be happy to answer any questions in the comments below or in class this week!